We checked in about the experience of collaborating on the first team project, a wiki on Light + Space art.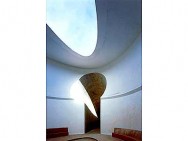 Next we framed the frottage, series of five rubbings.
A second session of ink painting, this time with a tool of our own making.
We watched a film on James Turrell. In addition, please also watch this video with him, describing a visit to his Roden Crater project (link provided by Team Boyle).
We talked about about the meaning of having a true, visceral experience, inspired by John Dewey's book, "Art as Experience." This introduces a two week individual project that begins this week, and concludes on October 8th.
VOICETHREAD >>
Of course we have VoiceThread this week. There are four slides. Please leave your comments by midnight, Wednesday, September 29th.