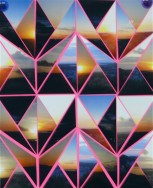 Excellent responses to the night project! We had everything from shoe box dioramas to sophisticated short films, and 'audience' participation pieces. Here are photos of some of the projects.
We also watched a film about surrealist / dadaist artist, Man Ray, titled "Man Ray: Prophet of the Avant-Garde."
No class meeting on October 15th. It's Autumn Day.
For our next meeting on October 22nd the assignment are:
Visit the Museum of Jurassic Technology in downtown Culver City. (Only open on Thursday – Sunday afternoons. Check hours / location at web site.)
Listen to two or more podcasts from "A History of the World in 100 Objects." Excellent quality produced by the BBC, and written / read by the director of the British Museum. (You can stream from the web site, or get the free podcasts in iTunes and download to iPhone / iPod.)
Finally, there is a VoiceThread which I'd like you to complete before the October 22nd class. (I may not have this completed until tomorrow, October 12th.) There will be some questions about the Jurassic, and the objects in "History of the World."