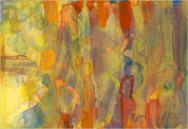 for next week's meeting on September 17th…
Complete a series of five or six, fine quality rubbings (dark tone, even, not smeared, no margins) in and around your home.
A series might be:
Floor surfaces
Textures containing circles
Things that are warm to the touch
Surfaces encountered in walking from the outside to your bedroom
Anything you think is a series
Bring these to class. We will talk about ways to perfect these, and on September 24th, we will mount these five drawings in a frame.
Demo Video of Frottage Drawing Process
The Concepts + Origins of Light + Space Art
Do some research about this art form, the only one that was created in Southern California. Focus on one artist, anyone in this movement, and select one of their installations for study.
Define.
Origins? Philosophical roots. Why do you think this movement started when it did (early 70's). Just an accident? Maybe the moment was right because…
Bring this preliminary research, and an image of the artwork you focused on to class.
BE PREPARED as we will meet in teams to share this information. The teams will then collaborate on the creation of a document which synthesizes the information of each team member.
3) Visit www.voicethread.com
There is a new thread for this week's meeting which contains:
a review of the possible origins of Robert Irwin's move from painting into a new form of art-making.
a question related to the experience of making the texture drawings (frottage process).
a place to leave a brief description of the Light & Space artist you chose to focus on.
Complete the Vthread comments by midnight, Wednesday, September 15th.
http://voicethread.com/share/1306290/
Tips for using VoiceThread:
Typical comment 30-45 seconds long.
Be spontaneous, but don't ramble on.
Usually it's best to limit the comment to one concept. You can always add a second comment, if you have another point.
Listen, and react to what others have already said in the thread.
Feel free to be very opinionated, and specific about your interpretation of an image.
About the image in this post: Gerhard Richter, Watercolor, 1988.