We had our last meeting on Friday. We looked at the Rose Parade Projects, and spent most of the time working on the "Doorway to the Sanctuary" project.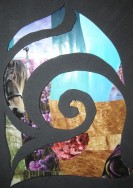 Please try to finish the very last assignment by Friday, December 17th, in which you create your own VoiceThread in which you reflect on your experiences in the class. Those I've looked at so far have been very interesting, and helpful in planning future courses.
Thanks for participating in Visual Thinking.
Happy Holidays!