Update: A new VoiceThread was posted on November 29th. Please respond by midnight, on December 2nd.
SKETCHBOOKS ARE DUE ON DECEMBER 3rd. It is crucial that these be turned in on time.
We viewed, and voted on the 2nd round of the chair project. Evaluation was based on the second chair be transformed in such a way that is was the complete opposite of the aesthetic, and concept of the first chair.
We listened to an audio visualization exercise, by Shakti Gawain, titled, "Inner Sanctuary." For the 3rd round of the chair project, the assignment is to transform it in a way that makes it perfectly suitable for you personal creative sanctuary.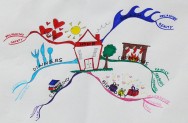 Mindmapping: an introduction. In class we made individual maps about "Happiness." We then collaborated in pairs on a second mind map.
For next week, create two Mindmaps. These can be notes on a book or lecture, planning for a vacation, mapping out a creative project, or anything else you can think of in which the process might lead to new insights.