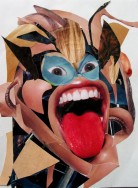 We watched one episode of John Cleese's video, "The Human Face."
In the second half of the class the assignment was to make two expressive, well composed photomontages of a face.
Meeting in teams, we selected one object, from the list of three created last week. This object will be described in a podcast which emulates the "A History of the World in 100 Objects" podcasts. The script will be written as a team collaboration.
24 Objects that Define Our World: Complete script before November 5th class.
Main assignment this week is to write the script for a three to four minute podcast (500-650 words). This script will be about ONE OBJECT of the three chosen this week.
The scripts should be developed on the new page which I've added to your team Wikispaces site, "Three Objects: podcast script" page.
Also, here is this weeks VoiceThread link.
And please finish reading, "Air Guitar," and responding to the questions on the last page.